Hello friends, here we will talk about XML sitemaps. The first question that comes to the mind of people is "What is an XML Sitemap?". Then after that why its use is so important? In this article, we will answer all these questions in detail.
XML sitemaps help to navigate the content of your website in search engines. This gives the search engines a list of the entire contents of your website so that your website is always updated in the search engines.
Contents:
What is XML Sitemap & Why Create a Sitemap?
An XML sitemap is a web file where all the contents of the website are kept in XML format. XML files are created for all search engines only. It is used for search engines only and only.
If we go back some time, we come to know those earlier people used to make a link named sitemap towards the bottom of the website. In which all the links were kept line by line. Through this page and link (sitemap), users could easily find any page. It was part of the navigation that helped people find any page. This sitemap was previously mostly created in HTML.
Today, many websites use HTML sitemaps. But now most people use XML sitemaps on their websites. If we talk that earlier people used to get the navigation of the link in the HTML sitemap while the XML sitemap has the navigation of the link for the search engines.
This sitemap helps website owners to include all links in their website to the search engine. It also tells search engines which links are more important than other links. This changes your website anytime, it tells the truth to the engine and your website is always updated.
XML Sitemaps do not improve the ranking of your website but increase the visibility of your website in search engines. This means that it helps you a lot in getting traffic and traffic can improve rankings. But its job is only to give it the ability.
What benefits of XML Sitemap?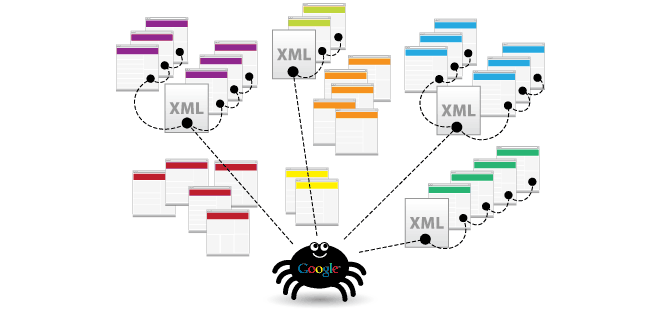 Now we will talk about the advantages of XML sitemaps. The sitemap is very essential from an SEO (search engine optimization) point of view and it is also necessary to use it.
When anyone creates a new website, a sitemap is very useful for bringing it to the search engine. Almost all new websites do not have any backlinks at the beginning. It is very difficult for people to find a new website in search engines and a sitemap is a simple solution to all these problems.
Many popular search engines make website owners a tool in which they can submit their website's sitemap very easily. The name of this tool is "Webmaster Tool / Search Console". Website content is always updated with the help of this tool.
Through sitemaps, your website is always updated in search engines. This allows the search engine to know which content is more important on your website. With this, the search engine also knows when and how often it has been updated.
Generating sitemaps in WordPress is very easy. Many plugins are available in the market for this, it is also free. Below you will know how to install sitemap WordPress.
How to generate XML Sitemap in WordPress?
In WordPress, there are many ways to generate an XML sitemap. We give you the best method or plugin to generate the sitemap. The methods are very simple and easy for anyone. You can choose one method that you like. The method to create a sitemap is as follows:
Method 1: Create a sitemap using Yoast SEO plugin
Yoast SEO plugin is a very popular plugin for ON-PAGE SEO. This plugin has the option to insert Meta Tags or check your readability score.
Step 1: Open your website login dashboard (WordPress) then go to plugins=>Add New=> search 'Yoast SEO'. After that install it.
Step 2: After installing the plugin you will see the 'SEO' option after the 'Setting' option. Then you go to General=>Feature=>on the XML sitemaps.
Now your sitemap is ready to index to all search engines.
Method 2: Use the Google Sitemap plugin for creating the sitemap
Google Sitemap is the very popular and best plugin for creating a sitemap. To create the sitemap you just install it.
Method 3: Ways to create a sitemap without using any plugin
This method is very common and easy. Before WordPress 5.5 version, WordPress did not have any options or features for the built-in sitemap a manual way. But in WordPress 5.5 version, have the option to create a sitemap without using any plugin.
At the end of your domain, you just add or create the wp-sitemap.xml file. Then you will see the default XML sitemap on your website. This allows for generating automatically a sitemap of your website.
This feature has been added to WordPress because your website can get the full benefit of SEO. By no means could you be desired by the benefits of SEO, that's why WordPress has given an easy way to add a sitemap to its new version.
By no means don't stay away from the benefits of SEO, that's why WordPress has given an easy way to add a sitemap to its new version.
However, this cannot be controlled very easily, hence the problem of preaching is always there. The deleted content from this also appears in the sitemap.
Below you will find plugins that work well and are also updated. Let's move forward now.
Method 4: Creating sitemap using All In One SEO plugin
All in One SEO plugin is the second best and most popular plugin for creating the sitemap. This plugin gives you the easiest way to Generate the sitemap in the WordPress CMS.
This plugin has two versions for people. One is free and another is paid version. According to the name of the plugin, it has kept all types of SEO tools. This plugin also has extra tools that optimize the website or blog posts.
Plugins=>Add New=> search 'All in One SEO' then install it.
You just to the All in One SEO option then go to the sitemap setting and 'enable sitemap indexes'.
How do we check the website XML sitemap on search engines?
First, you go to any search engine. We choose 'Google' for example. Open your browser and open 'Google.com'. Then type "link: your-domain. xyz". After that, you will get your website link on google. If all the links of your website are in google then your XML Sitemap is working well. Otherwise, the sitemap is not working properly on your website or the plugin will have the wrong setting.
Other Articles